Fred Breebaart (1945-2015)
Frederik Willem Alexander Peter Breebaart was born in Haarlem but spent an important part of his childhood in the colorful Curaçao (1950-1955). Upon return to the Netherlands the family settled near the dunes, in The Hague.
At the age of 16 the dyslexic unruly teenager went to the Hazelhorst School in Delft on the advice of yet another psychologist, where he had the time of his life for 2 years and even was taught by his hero Karel Appel for 1 day. As an exceptionally good student he was recommended to the Art Academy by his teacher Ed Strelitsky, which his parents however didn´t find a good idea; he had to learn a real profession. Like his father and future father-in-law he started, as an 18 year old, an education and career in the insurance sector. Painting remained part of his life and sometimes he even made a large non-figurative piece on request.
When he had a severe burnout in 1972, when he was 27, he and his first wife Joke fled on holiday to  southern Spain where both of them found new lovers. The decision to withdraw from the business and finally choosing art was made easier for him as his new love, the older Chola, was an artist and had a small gallery in Mijas (Málaga). Because Fred also chose to raise his two children, from his first marriage, himself it was important to generate an income with art right away.
Befriended art edit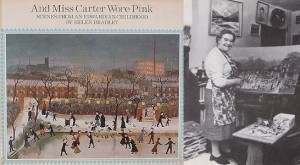 or of the magazine Elsevier, Wim Zaal, knew Fred loved "fiddling" with scale models  and showed him a book (Helen Bradley: And Miss Carter Wore Pink) from the, at that time, up and coming genre naive art. In that style it should be possible to sell right away as it would take a long time to break through with his abstract work. After Fred had copied a few pictures of just 20 x 25 cm he thought it could suit him and he adopted those measurements  as his "standard" size. Years later, he bought the book and saw the cover with a picture of a housewife behind a canvas of about 65 x 100 cm!! His final style of painting was born: small, very crowded, colorful paintings in the so-called naive style. Soon after his work found its way around the world through Isa's Galeria de Arte in the marina of Marbella Puerto Banus. Painting he did or at home in Fuengirola or in the gallery in Mijas, where the work of his wife and others was being sold.
When in 1982, his second marriage failed, and his children were ready for high school, Fred returned to his beloved Delft where he rappidly bumped into wife number 3. With Ineke he continued to develop his specific and very recognizable style, his colors became brighter and he settled down. He began to exhibit in the Netherlands and for a while he had a little gallery in Arnhem, which he stopped when an agent for America and Japan presented himself and with whom he worked for a few years. After this he succeeded to get in touch with a gallery in Curaçao and he could finally transfer his childhood memories of this island into paintings, with which he quickly became known. He worked with galleries in Sweden, Denmark, Belgium, Israel, America and Spain, but spent most of his time on assignments for occasion paintings, home / family portraits and so-called life course paintings in which everything that was (or had been) important to somebody was processed.
Fred painted with sable aquarelle brushes (Da Vinci 1520) with acrylic (mainly Liquitex);  in Spain still on hardboard, later in the Netherlands on extra hard Swedish masonite, which was covered with seven layers of gesso and was sanded as smooth as possible. His naives were painted sitting flat on a desk. Larger canvases in different style were made standing of sitting behind an easel.
Very occasionally Fred took "time off" from the naïve "fiddling" and made larger paintings in a very different style but his great love was the detailed work of the miniature naives.
He himself said: "The fundamental idea of my work is making a painting that looks happy from a distance, always contains more people than is justified and invites to closer examinate the details and jokes, so that a smile is provoked from the viewer. This smile, that keeps coming back when (re) discovering more details, is my main motivation and reward. "
His entire life he had stage fright for the completion of an assignment and always tried to go beyond the expectations of his customers, which always succeeded.